The foundation for any Central Florida construction project is site development. From excavation, clearing, to land planning, maximizing usable land and creating a secure and stable site for your construction site is what the seasoned professionals at Swell Construction has been doing for 30 plus years. 
Our experience, innovation, leadership, and commitment, ensures we will exceed your expectations. Working on a project from initiation ensures a higher level of planning, a solid foundation, and in compliance with all local regulations. 
"Breaking Ground"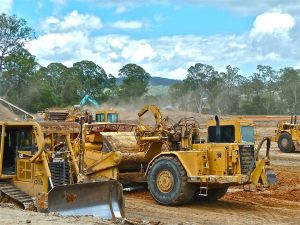 It's the moment your construction project begins. Whether it is a multi acre housing development, shopping plaza, medical complex, apartment buildings or condos, it's an exciting time! 
The moment construction begins, "Breaking Ground". Excavation begins and it seems like it's a race to get to the finish. You can count on Swell Construction to complete the job on time, if not ahead of schedule and under budget. With over 130 pieces of heavy equipment, ensuring that no project or task is beyond our limit.
As a preferred site development contractor, we strictly follow safety regulation and guidelines. Based on the project's plans, we begin excavation and grading, which typically includes slopes for runoff, plateaus for buildings, ditches for utilities and installation, shape cut outs, level ground, stormwater system installation, paving, and more. 
This allows construction to begin. Swell Construction has the experience to understand the needs of different projects. To ensure the foundations of homes in a  development won't be affected by all of our storm water, extensive grading will be needed to properly direct the water.  While the land for a shopping center will need to be emptied out to make room for the foundation, utilities, and structure to be built.
Working with inexperienced contractors and site developers can lead to delays, missed deadlines, and send you over budget. At Swell Construction we know what it takes to get the job done right! 
We are a full service, licensed, bonded and insured, site development construction company. Our offices are located in Oviedo, Florida, and we have worked in the site development industry in central Florida area since 1989.