Swell Construction is a leader in land clearing and site development in the Orlando area. We can help your property achieve its full potential. With our professional and skilled personnel, we not only provide accurate estimates, but perform every job in a timely manner and cost effectively. Specializing in land clearing, grading, earthwork, excavation, stormwater system installation, utility systems installation, and paving.
A crucial part in any land development or property project is the removal of vegetation, rocks, and trees.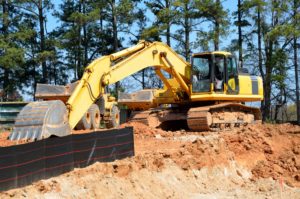 Basic land clearing terms includes
Clearing, which is cutting down and removing the brush and trees.
Grubbing, clearing out the stumps and roots by digging and grinding.
Scalping, this includes removing the sod, exposed soil, remaining roots, and other vegetation.
The best land clearing practices are always used at Swell Construction. This includes taking our local ecosystem into account, by minimizing sediment discharge and off-site erosion, that can end up in our lakes and wetlands.
How much does land clearing service cost?
There are a few factors that go into the price of clearing a piece of property
The site and condition of the land, are there large slopes or is it flat? Is it heavily wooded with large trees or is it mostly grass?
Are there any local permits, environmental regulations or zoning variances needed?
Will the cleared debris need to be hauled away or will it be burned?
How accessible is the property and how much land need to be cleared?
Will the land need leveling or grading? Typically required before construction begins.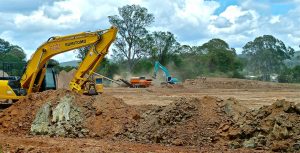 Why not just clear the land yourself?
Though it may sound tempting, clearing land is a lot of hard work! It's much more than using a chain saws to chopping down a few trees. It consist of renting large equipment, that can be very costly and it takes experience working with the trees and soil conditions in Central Florida.
Safety is also an issue, you need to be very familiar with working with large equipment. Overgrown vegetation here in Florida is known to hide dangers and hazardous materials under them, which will need to be safely removed.
As a leader in the site development industry in Central Florida, Swell Construction Group is fully licensed, bonded, and insured. With over 130 pieces of heavy equipment, we can handle any size project.
We have established a great reputation by working with Orlando's top commercial, multifamily, and single family residential projects. We take pride in performing quality work, while staying on schedule and under budget!