Excavation and site clearing is the first phase of any Central Florida residential or commercial construction project. A solid foundation for building, utilities, and roads. Even the tiniest miscalculation in this stage can wreck havoc on the project down the road. There are many points to take into consideration
Site Management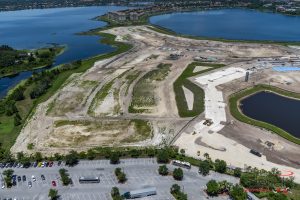 A complete site development service provides excavation service needs to work closely with land clearing, grading, earthwork, excavation, paving and storm water and utility systems installation. The experienced team at Swell Construction works with Owners, Engineers and Municipalities on all aspects of a proposal in order to get the project to the next level. This ensures unnecessary delays, quality and timely work.
The Project Manager is the pivotal point on a project and all crews take the initial direction from him. They ensure the project is built to the client's specifications and acts as the interface between the Owner, the office and the field. Open communications is the key to success.
Time Management
A timeline is of utmost importance. While the weather in Central Florida isn't easy to predict 100 percent of the time, delays can cause setbacks. Your project should be the highest priority, the excavation service should be responsive to ensure the project is finished on time.
Professionalism
You don't need any added stress. It is important to take into consideration the nearby properties. What will the road conditions be like? The noise? A little professionalism goes a long way!
Erosion Control
Storm water and erosion control is of utmost importance in Central Florida. It can quickly become a hazardous condition. Surface runoff, prevent flooding, water pollution, and soil loss, erosion control should be done by experts.
Looking for a top rated excavation service in Central Florida?
When it comes to residential and commercial projects, Swell Construction is exceeding our clients' expectations.
With over 30 years of experience and over 130 pieces of heavy equipment, we can tackle any project!
We provide accurate estimates and perform our scope of work in an efficient, timely, and a cost effective manner.
Contact Swell Construction for more information on your next project.