There is a lot that goes into preparing a Central Florida property for construction. More than just clearing the land, it involves removing all the debris, trees, and shrubs, but it also includes, grading, earthwork, excavation, paving and storm water and utility systems installation.
At Swell Construction We Take Care Of It All
Permits are needed before the land clearing project can begin. It is important to take any steps to prevent erosion and protect any vegetation. But don't worry, Swell Construction will help. 
Existing Structures Removed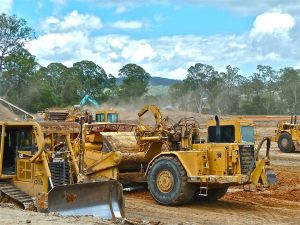 Whether it is some old asphalt, concrete or a building, it all needs to be properly removed before a new construction can take place. The debris will need to be appropriately disposed of. 
Removing Vegetation, Debris and Rocks
Any trees or vegetation you want to remain on the property can be marked, everything else can be cleared out. It may require more work to remove mature trees.
Earthwork and Grading the Land 
Grading takes place after all the debris and vegetation is removed. Soil is either added or taken away depending on the situation. The soil is leveled out to ensure the foundation is sturdy for the construction process. 
Best Left to Professionals
Land clearing takes the right equipment, training, and experience. It's much more than using a chain saws to chopping down a few trees.
Safety is also an issue, you need to be very familiar with working with large equipment. Overgrown vegetation here in Florida is known to hide dangerous and hazardous materials under them, which will need to be safely removed.
From large scale project to small, Swell Construction Group is a  leader in the site development industry here in Central Florida. We are fully licensed, bonded, and insured. With over 130 pieces of heavy equipment, we can handle any size project.
We have established a great reputation by working with Orlando's top commercial, multifamily, and single family residential projects. We take pride in performing quality work, while staying on schedule and under budget!