A solid foundation starts with a quality construction site development. In the past decade, there has been a dramatic call for eco-friendly construction practices here in Central Florida. At Swell Construction we believe that starts before construction begins. We are committed to reducing the negative impact site development has on the environment.
Sustainability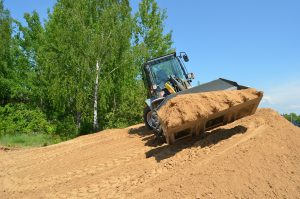 Construction sites throughout the country are in the habit of producing a significant amount of waste. Sustainability should be a higher propriety, from recycling waste to focusing on decreasing energy costs.
Often times, everything is just tossed into a large trash bin and it ends up in the local landfill, but it doesn't have to be this way. Green practices also include warm mix asphalt and stormwater management services.
Construction World talks about how to Implement Eco-Friendly Construction Strategies and  Improve Demolition Practices
"Rather than dumping more materials like concrete and structural steel into landfills, these can be recycled for other construction jobs. Industrial crushing facilities recycle these materials into dry aggregate for new construction. Additionally, even carpet, flooring and ceiling materials can be reused in a variety of ways. Any chance a contractor has to use recycled material, it often means a substantial savings opportunity. By using recycled and sustainable materials, construction companies will be able to avoid additional costs associated with the disposal of toxic materials from the site."
Equipment Management
Efficient equipment, conserving energy, and taking proper conservation measures, adds up to a cost savings for everyone, reducing the carbon footprint of the project is very attractive to the new owners. 
Focus On Safety 
Implementing the highest safety procedures throughout the construction phase. Taking into account a small incident can set back the time frame and add to the final cost."To avoid accidents, you need to make sure that all of your workers know about potentially hazardous areas, of these potential issues, and have the tools and training they need to stay safe while working on your job site – especially when operating heavy equipment"
If your property is in need of land clearing, grading, earthwork, excavation, paving and storm water and utility systems installation, contact Swell Construction.