Whether it is a commercial property, parking lot, subdivision, or single family home, in Central Florida, the first and most important step is a strong and stable foundation. Without it you can end up with some serious issues down the road. 
No matter what type of excavation or site development work you are having done, it is necessary to understand the importance of properly clearing the site, excavation, trenching, and digging for footings. 
A foundation is more than just a solid base for every building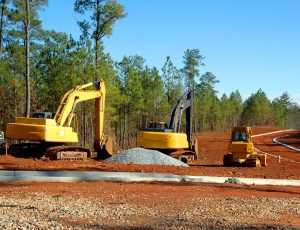 The foundation keeps the structure from sinking into the ground, while keeping moisture out. Without a proper excavation for a solid foundation a building would absorb moisture, a few years down the road the foundation may become soft and crack, the walls could be filled with mold.
A good foundation protects the framework from all types of ground movement. It could be from our torrential downpours, disturbances in the ground from vehicles or road work, or any type of vibrations. 
Before a foundation can be poured the base of crushed stone must be properly compacted to that the foundation does not crack or shift. 
Why do foundations in Central Florida fail?
With proper site work and pouring of the foundation, it should last forever without any problems. But if the backfill used around the foundation has too much moisture, it can result in excessive pressure, cracks and leaks.
Equally important is to remove any and all tree roots, not just the stump. If not the roots will continue to grow and cause significant damage to the foundation. 
Excavation creates a large amount of dirt, which needs to stored and removed. Placed in the wrong place and it can result in displaces soil, landslide, collapsed wall, or trench.
Proper equipment and permits will be necessary for these types of site development. 
There are many aspects that go into excavation and site development. Swell Construction Group is a trusted site development group in Central Florida. We provide services in land clearing, grading, earthwork, excavation, paving and storm water and utility systems installation.